Special Event!
SATURDAY, JANUARY 24
An Afternoon of Mediumship with Priscilla
Live via Zoom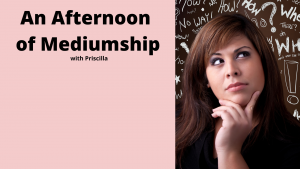 Have you ever thought you had "it"?   Do you get frustrated that "it" doesn't happen when you are put on the spot?  We are all intuitive and have the ability to read energy.  We also have the ability to connect to those in the Spirit World.  We just may need some human tools to help us open the pathways and trust in ourselves. Inconsistency in making connections is simply a system issue.   Once you develop a system, you'll be on your way.
Join me for this fun and interactive afternoon session of Mediumship.  Learn the basics, see what you can do and hang out with some like-minded people while you are doing it.  I know what you are saying.  "I can't do this online."   Trust me, you can and once I teach you to develop a process, you can do it whether someone is present or not.  Are you in?
Complete the form at the bottom of this page to register.  Once you have registered, a payment link will be provided followed by the Zoom information.
Time:  1:00 p.m. - 5:00 p.m.    Cost:  $100.00
If you would like to take your skills to the next level, check back for another Afternoon of Mediumship on Saturday, February 27 from 1:00 p.m. - 4:00 p.m.
---
ONLINE Programs offered through Zoom
This course is designed to enhance your current knowledge of Mediumship and move you toward becoming a professional in the field, if you so choose.  There are three levels of coursework that build upon the previous level, each offered in a weekend format throughout the year.  Documented sessions and feedback are required between each level of advancement to encourage validation of information and accuracy of message delivery.  Plenty of practice time is provided during each course.
Level I Topics covered:
Who's who in the Spirit world
Psychic vs. Mediumship work
Understanding your own beliefs and what might be blocking your development
Meditations to meet your Angels and Guides
How we receive energy
Ethics of a Reader
Skill Drills that you can work on at home
Learn concentration exercises to help you stay focused during a reading
Creating and continuously developing your system
Creating your Psychic Dictionary
How to do a reading for yourself and for others
Practice readings with classmates and volunteers
Ethics of a Medium
Level II Topics covered:
The History or Mediumship
Exploring Mental vs Physical Mediumship
More Concentration Exercises to keep you focused during a reading
Guided Meditations to connect with Spirit
Using tools such as Inspirational Writing, Flame Cards, Billets and others
Taking your readings to a higher level and advancing your system
Making direct connections to loved ones in Spirit
Expanding your evidential mediumship
Practice readings with classmates and volunteers
Level III Topics covered:
Deepening your connection with Spirit
Working in Trance
Platform Mediumship and Group Readings
Introduction to Medical Intuition
How to do a reading without a sitter present and phone readings
Introduction to the types of Physical Phenomenon
Exploring your personal style in readings
Developing your business and personal practice
Upcoming Course Dates:
Level I
Please check back for 2021 as I am reworking the course and moving online with self-learning and group coursework.
Level II
2021 Course Dates TBA
Pre-requisite, Level I, completion of five 20-minute sessions
9:30 a.m. - 6:00 p.m. both days
$375.00 (Payment Plan available)
Level III
2021 Course Dates TBA
Pre-requisite, Level II, completion of five 45-minute sessions
9:30 a.m. - 6:00 p.m. both days
$375.00 (Payment Plan available)
*Course dates subject to change
Online via Zoom
Mediumship Mentorship with Priscilla Bengtson 
You've taken the classes and you still don't feel confident in your Mediumship readings.  Join Priscilla for these small, personalized Mediumship focus groups.  These sessions are designed to help you gain confidence in your readings, enhance your Mediumship training and receive personal feedback from an experienced Medium and teacher.  Class size is limited to six people so that each person can receive the guidance they need.  Attend one or attend all.  Minimum pre-requisite is Mediumship Level I.
For information, please call 860.430.9801.
Time:  7:00 p.m. - 8:30 p.m.     Cost: $35.00 per session